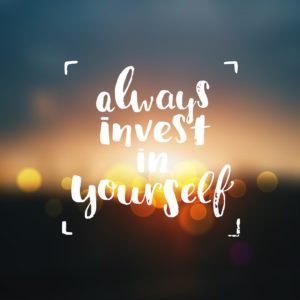 Live To Be Your Best Investment
 "There is no more profitable investment than investing in yourself. It is the best investment you can make; you can never go wrong with it. It is the true way to improve yourself to be the best version of you and lets you be able to best serve those around you." ― Roy T. Bennett, The Light in the Heart
 Life is about more than money. Interesting way to start the quote of the week considering our most recent economic climate. We are so focused on investing in our office, home, retirement account, college fund that we forget about our health. You are your best investment.
So, how do you invest in yourself? Start by investing 3% of your income in personal development – books, podcasts, coaching, and workshops that help you develop your self-awareness. Investing in yourself isn't frivolous or selfish.  It cultivates three possessions you want to keep vigorous for your entire life: your mind, body, and spirit. You must take care of them and invest in them if you wish to realize your full potential.
What makes you happy? Now there is a question for you. Sit and think about it. Friends, family, projects, riding a motorcycle, fishing, etc. Focus on those things and activities that you find fulfilling. Is there something that you have always wanted to do but have not found the time for? Well, why are you doing the things you do if you cannot enjoy the things you want to?
Investments in yourself and your future include things like taking enough time off to be refreshed and creative, learning new things, improving communication skills, listening skills, fostering relationships with your loved ones, and keeping your body physically fit. If you are not continually investing in yourself, you may wake up one day to find that you've lost your ability to work because you hadn't kept up with your skills, developed a health problem because you hadn't looked after your body, or your personal relationships are virtually non-existent or simply you are burned out.
You need to invest in your most precious assets your entire lifetime and take positive action to maintain them. Commit to making long-term investments in your life bank. When you are disciplined about investing in yourself, you'll be able to make withdrawals and still have a reserve to draw upon.